The Champions League quarterfinal stage concludes this week, with the semifinal berths being decided. Below, we dissect the biggest talking points from Tuesday's action in Europe's premier club competition.
Milan's dominance over Napoli is some feat
Getting the better of Napoli, Serie A's runaway leaders, three times in less than a month is incredible in its own right. Holding one of the most prolific teams in Europe to just a single goal over that span is masterful. AC Milan fielded the same starting lineup in all three matches – including two daunting fixtures in front of 60,000 at the Stadio Diego Maradona, the most intimidating stadium in Italy – and not once could the Partenopei crack the code.
Milan relied on a cohort of unsung heroes in their 1-0 first-leg victory last week and required a similar collective effort Tuesday to keep Napoli from mounting a comeback. Mike Maignan saved a pivotal penalty kick in the final 10 minutes, and Milan's back four dealt with a seemingly unending barrage of crosses into the area. Not so long ago, Milan struggled mightily on corner kicks, conceding more times than not. During Tuesday's 1-1 draw – which gave Milan a 2-1 win on aggregate – the Rossoneri came away from 16 of them unscathed.
Milan continued to keep Napoli on the perimeter of the penalty area, forcing them to take pot shots and shuttling them into less dangerous scoring positions. The few times Napoli broke through the lines, they lacked the composure to finish. In the end, Italy's champions-elect could only land four of their 23 shots on target. One of those was from the penalty spot.
Milan also suffocated standout winger Khvicha Kvaratskhelia, who, when left alone, can dribble circles around his opponents. Two men covered Kvaratskhelia whenever he was on the ball and severely limited his options, with Milan captain Davide Calabria cutting off the inside, while Rade Krunic, Brahim Diaz, and Junior Messias combined to push Kvaratskhelia outside of his usual dribbling lane. All the Georgian sensation could do was send hopeful crosses into the area.
But Milan wouldn't have progressed without their breathtaking counterattack. They couldn't possibly outpass Napoli, a team with wizardly control of the ball and absolute maniacal pressing, so every touch counted. Milan were under incredible pressure in the first half and sometimes couldn't keep the ball for more than three seconds at a time. The difference is they didn't need a lot of it. They were ruthless with the few chances they created. Rafael Leao's authoritative run down the gut of the pitch drew instant parallels with Ruud Gullit's solo effort on the same ground in 1988.
Milan's marathon with Napoli was fought like Barcelona's four-match, 18-day slugfest with Real Madrid in 2011. It will live long in the memory of Italy.
Napoli's celebrations will still go on
The people in Naples have been counting down the days until they finally clinch their first Serie A title in three decades. If Napoli can win each of their next three games, their celebrations will begin and run long into the summer.
That should make their Champions League exit a little easier to digest. This season has been historic in so many ways – Napoli hadn't even reached the Champions League quarterfinals before – and it's happening with a cast of players no one expected to compete for trophies. Preseason protests over the club's apparent lack of transfer activity seem sillier by the day.
As harsh as it appears right now, Tuesday's defeat on aggregate should encourage the Partenopei to keep building. That's how Milan recovered from their humiliating group-stage exit last season. The Rossoneri entered the campaign with the intention of improving on their 2021-22 performance, and they've done so by finishing second to Chelsea in their quartet before beating Tottenham Hotspur and Napoli in the knockout round.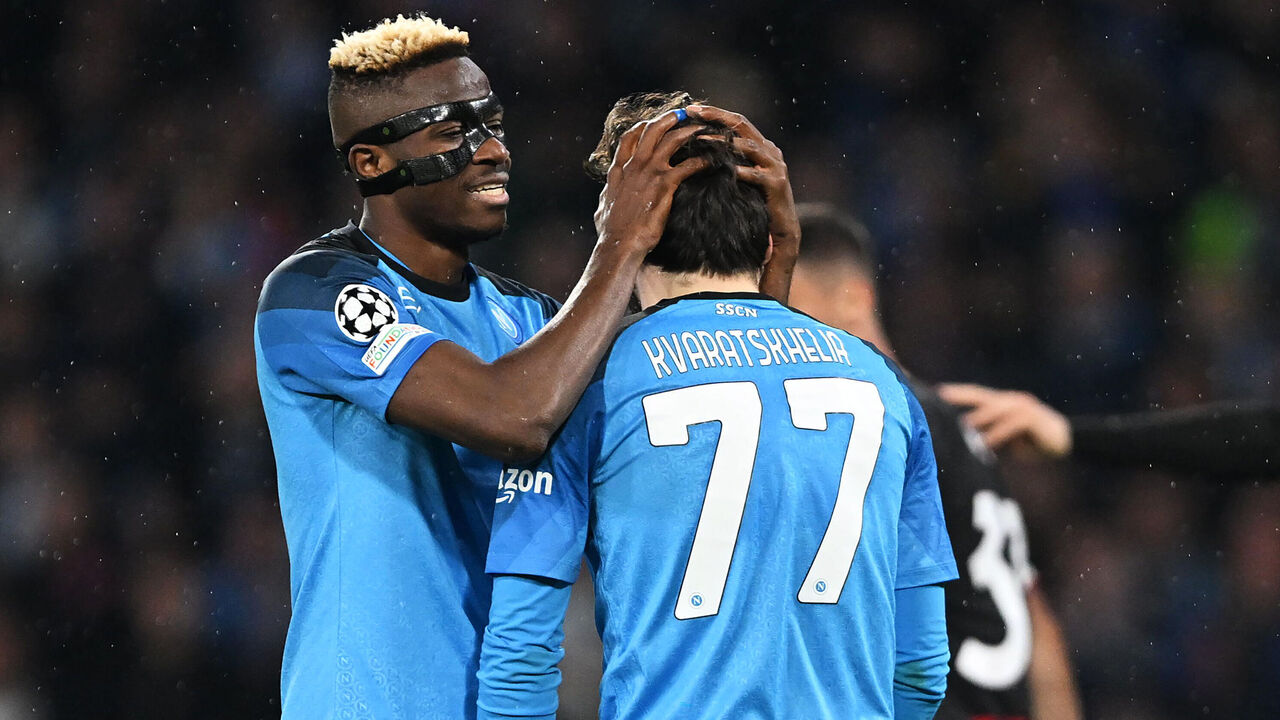 Napoli didn't even play that badly Tuesday. They just missed certain details. Victor Osimhen's absence from the first leg robbed them of a clear threat up front, and suspensions to key players Kim Min-jae and Andre-Frank Zambo Anguissa prevented Luciano Spalletti from again fielding his best team in the second. These aren't necessarily excuses but mitigating factors Napoli hadn't faced earlier in the season. Spalletti relied on a very short squad to reach the Serie A summit, but things changed when he had to dig into his roster. He hasn't gotten as many reliable performances out of players he's left on the periphery for large parts of the campaign. It's one possible indication why Tanguy Ndombele, who's made just six league starts, was at fault for Milan's only goal of the game.
There are lessons to learn here. Instead of berating the coach for his choices and rueing a wasted opportunity, Napoli can find information in their sorrow. Maybe it'll inspire the likes of Osimhen and Kvaratskhelia to stay put in the summer and have another go at the trophy that got away. Perhaps club president Aurelio De Laurentiis will double down on his investment in the squad. This doesn't have to be a point of arrival. It can be a point of departure.
Unique opportunity arises for Lampard
Look, things have been glum for Chelsea under Frank Lampard.
The club icon hasn't provided any boost upon taking over on an interim basis. Tuesday's quarterfinal defeat against Real Madrid, a second successive 2-0 setback versus the Champions League holders, was Chelsea's fourth loss in as many matches since Lampard replaced Graham Potter at the helm. The Blues have scored just one goal in that time.
If nothing else, though, there were some positive building blocks Tuesday. That's all there is left for Chelsea at this point. Now eliminated from the Champions League and playing out the final weeks of the Premier League season while languishing in the bottom half of the table, the team has nothing tangible left to compete for. Lampard's primary focus should be on trying new things and seeing what, if anything, sticks and becomes viable for whoever succeeds him as the permanent boss.
Tuesday was a perfect example.
Lampard opted to use N'Golo Kante and Conor Gallagher, two tireless pressing midfielders, in ostensible – and highly unusual – dual No. 10 roles behind a solitary striker (who isn't really a striker, but that's a whole other issue the club will surely throw more money at this summer). The approach, extremely defensive at face value, actually caused problems for Real Madrid, generating turnovers in dangerous areas and creating scoring chances. For the umpteenth time in the campaign, Chelsea wasted their best opportunities before being punished at the other end. Kante himself could – and perhaps should – have found the net twice at Stamford Bridge.
"I feel like we played well and had a lot of chances, definitely more and better chances than they did," Gallagher said after the defeat that effectively ended Chelsea's season. "But football is all about taking your chances, and we didn't do that today."
All else being equal, that's true. But Chelsea are now in a weird purgatory, with nothing but pride to play for. It's the perfect time for Lampard and his staff to experiment with bold tactical wrinkles and see if they can uncover something that will serve the club well in the future. Under normal circumstances, a manager in this situation would focus on self-preservation. But with Chelsea publicly courting other coaches and informing Lampard that his tenure is only a brief interim stint until the end of the season, he has an opportunity to help guide the rebuild for the club he loves so dearly. In an otherwise lost season, that's all that's left.
Quick free-kick
Real Madrid play possum for fun
Real Madrid are the masters of giving the opposition false hope in the Champions League. For large portions of Tuesday's match, Chelsea were the better, more threatening side. Stamford Bridge roared each time the Blues tested Thibaut Courtois, and the fans raised their voices in excitement and anticipation whenever the Premier League club raced forward looking for an opening. You could sense a little bit of optimism creeping into the home crowd. Real Madrid were unbothered. They bided their time, as they often do in this competition, before deciding that it was the right moment, quite literally for Rodrygo, to kick into high gear and quash any glimmers of hope for Chelsea and the partisan crowd. It's a tale as old as time. And it always seems to work. Maybe their rope-a-dope approach will backfire one day. The other teams remaining in the competition can only hope.
Stat of the day
Real Madrid own this competition …
Tweet of the day
… and they're ready to keep that dominance going.