Never rule out Real Madrid in this competition.
Exactly eight months after a group-stage defeat to Sheriff Tiraspol seemed to signal the end of an era for the Spanish giants, Carlo Ancelotti's experienced side overcame Liverpool in the Champions League final with a 1-0 win.
The victory marks Real Madrid's record-extending 14th European Cup success.
Here's where the Stade de France showpiece was won and lost:
The Courtois final
The speed Thibaut Courtois uses to fling his upper body to the ground defies physics. Attempts fired low to either side of the Belgian's ankles should be his weakness – it's a lot of room for his 6-foot-7 frame to cover in an instant – but Courtois made saves that perhaps no other 'keeper of a similar stature would get close to.
Courtois was an easy choice for man of the match.
The Real Madrid No. 1 pawed away or blocked nine Liverpool shots in an authoritative display bookended by two excellent pieces of elasticity to deny Mohamed Salah. Courtois set the tone in the 16th minute, diving low to push away a bobbling effort from the Egyptian superstar. But his best piece of shot-stopping came eight minutes before the end of normal time when Salah infiltrated a rare opening in Real Madrid's rearguard.
Fabinho launched a ball forward when he spotted Salah starting a run behind Ferland Mendy, and the Reds attacker excellently tamed the ball before closing in on Courtois' goal. Salah's shot was well struck, heading toward the bottom corner, but Courtois was down quickly and deflected the ball out for a corner with his wrist.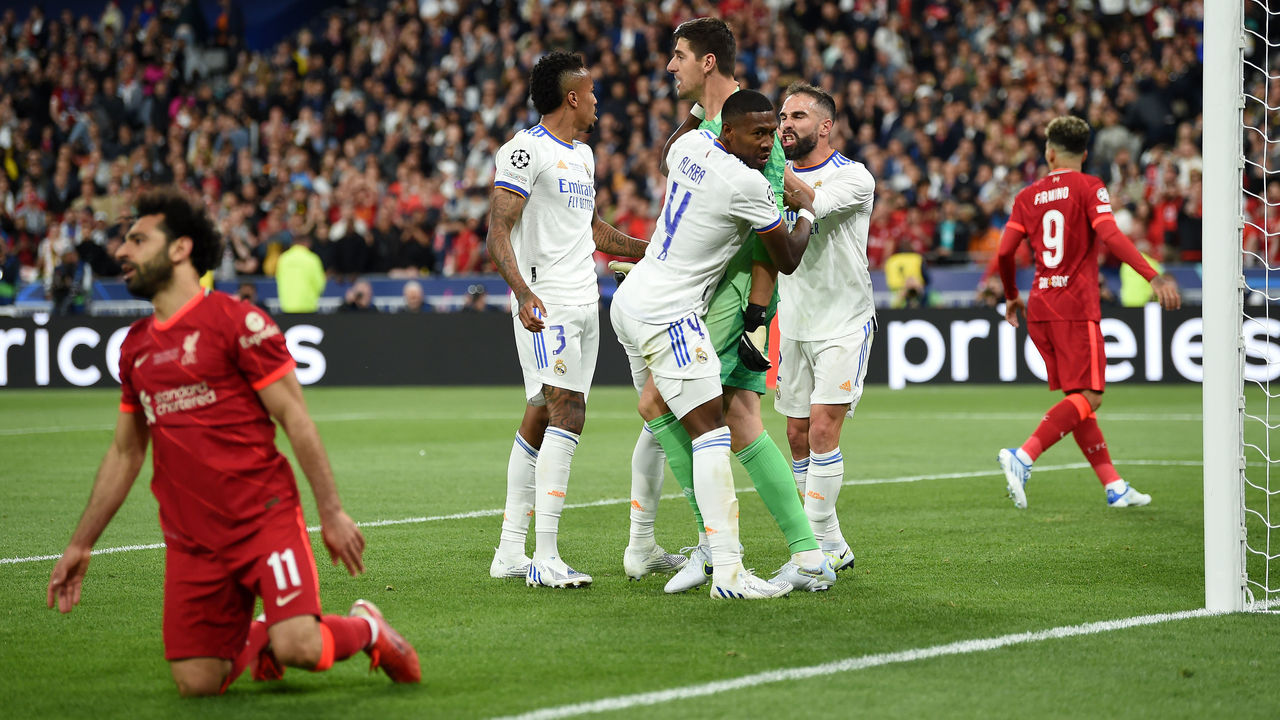 David Alaba leaped into the netminder's arms. Eder Militao and Dani Carvajal congratulated him. Courtois let out a guttural roar – he wasn't going to be beaten.
There were other shots that Courtois had no business getting to, including a Sadio Mane effort he pushed onto the post during the first half. Overall, he made a tournament-high 55 saves during Los Blancos' victorious run.
For context, Alisson made 14 saves during Liverpool's Champions League journey. Manchester City's Ederson made 57 stops throughout the whole 2021-22 Premier League campaign.
Karim Benzema is a frontrunner for the Ballon d'Or after his prolific season, including a 10-goal outburst during the knockout rounds. Goals from Brazilian duo Rodrygo and Vinicius Junior fueled Real Madrid's semifinal and final successes. But it wouldn't be inaccurate to suggest Courtois was the most important player behind his team's latest continental triumph.
Alexander-Arnold gets caught out
Ibrahima Konate was imperious at the back. The Frenchman justified his selection ahead of Joel Matip early on, keeping pace with Vinicius before effortlessly nudging the winger aside and carrying the ball upfield.
Konate's concentration was almost immaculate as he repeatedly stepped in with crucial interceptions and tackles, and his decision-making was faultless when he mopped up behind Trent Alexander-Arnold.
But on a rare occasion when Konate wasn't there to do the dirty work for him, Alexander-Arnold erred.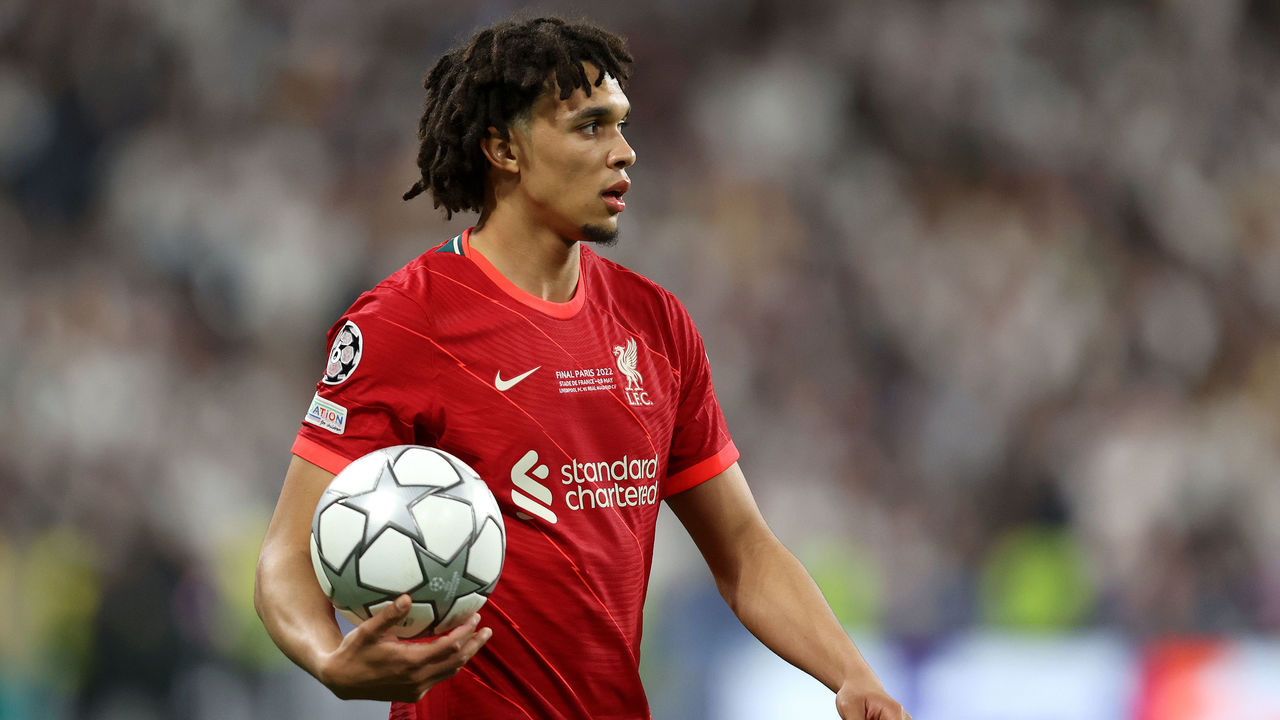 Alexander-Arnold's positioning was narrow while he kept at Benzema's heels, but he should've quickly switched his focus while Konate also kept tabs on the striker. He belatedly glanced over his shoulder at Vinicius around 30 yards from goal but still didn't do anything about it. Alexander-Arnold merely trotted back without tracking a white shirt and helplessly watched as Federico Valverde's delivery skipped across Liverpool's 18-yard box to Vinicius' right foot.
There will be a temptation to level most blame at Liverpool's attackers after Saturday's loss, and there are legitimate concerns after they failed to score in 330 minutes across their finals in the League Cup, FA Cup, and the Champions League this season. Maybe a long, intense campaign took its toll. Salah and Mane both played their 70th match of the season at the Stade de France, while Real Madrid had the luxury of resting players after winning La Liga in April.
But no amount of fatigue can explain Alexander-Arnold's inexcusable and avoidable error. It cost his team. Either Jurgen Klopp devises ways to give the Liverpudlian more support as he increasingly becomes a target for opponents – Jordan Henderson was briefly protecting Liverpool's right side early in the game but was soon relieved of those duties – or Alexander-Arnold quickly gets to grip with the basics of tracking a wide man.
Carvajal steps up
Unlike his fellow right-back Alexander-Arnold, Dani Carvajal was a reliable defensive presence. The veteran tallied four tackles, two interceptions, and three clearances, and ensured Luis Diaz had a frustrating outing until Klopp substituted the Colombian winger in the 64th minute.
And within 12 second-half minutes, Carvajal denied Liverpool a likely goal before kickstarting the attack for Vinicius' strike.
The supreme quality of Alexander-Arnold's right foot is unquestionable, and his delivery soon after the interval seemed to quiver with anticipation as it flew toward the back post. It was destined for Diaz's head, but Carvajal was also tracking the cross and pushed his shoulder into Diaz to unsettle him while stooping to head the ball away from danger.
It was a masterful intervention.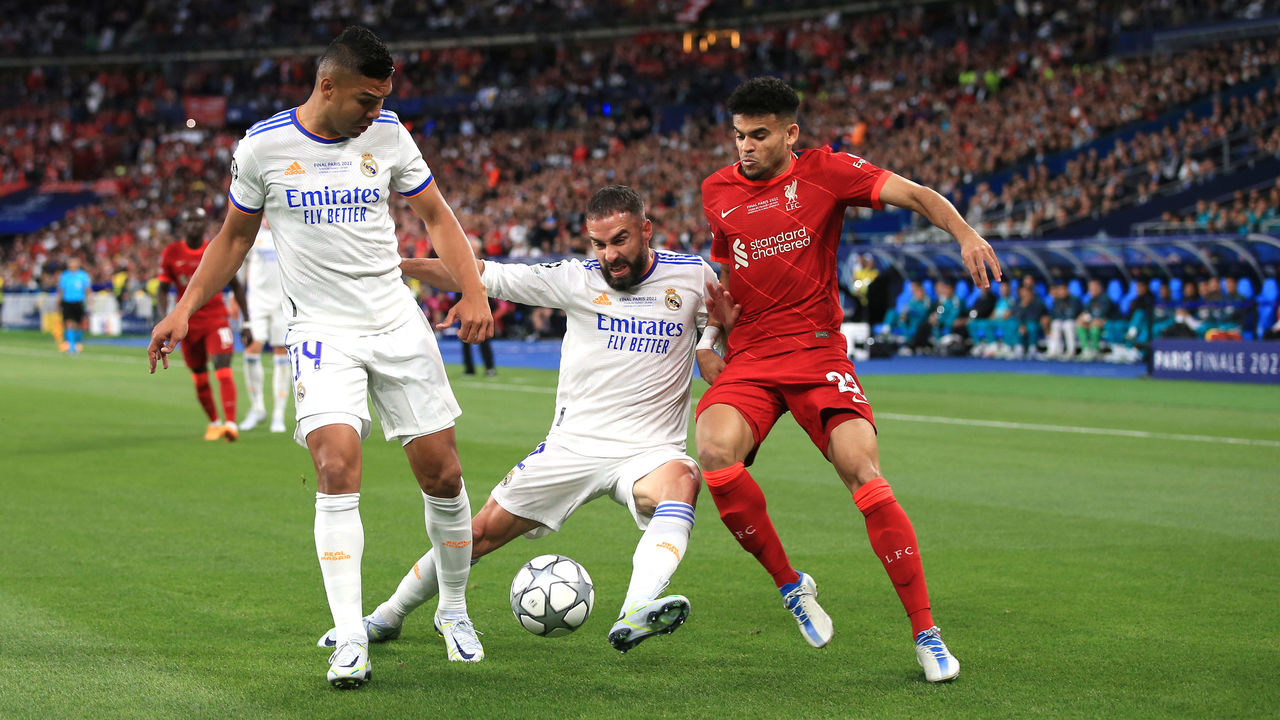 Then when Los Blancos hacked the ball away following some desperate defending, Carvajal took it upon himself to turn the tide. First, he skipped past Thiago Alcantara before slipping the ball to Casemiro. He kept moving and received the ball close to the halfway line where he confidently drew three Liverpool players to him before sliding a pass back to Casemiro. The attention that Carvajal had drawn eked open space down Liverpool's left, which Valverde strode into before supplying his assist.
Carvajal took risks in the buildup to the goal and committed at the right moments defensively. Going to the ground for a late block tackle on Mane could've backfired and released the Senegalese marksman, but Cavajal's execution was immaculate.
It was a display that leaned greatly on his experience and confidence from a decade of European dominance. Simply put, it was a quintessential Real Madrid performance.