Several players in Germany's Bundesliga paid tribute to George Floyd this weekend, making statements in protest of police brutality and racial injustice in the wake of his death in the United States earlier this week.
Floyd, a black man, died Monday after a white police officer in Minneapolis kneeled on his neck for nearly nine minutes, ignoring Floyd's pleas that he couldn't breathe and maintaining the position for nearly three minutes after Floyd became unresponsive.
The incident, which was caught on video, sparked mass protests in cities throughout the U.S. over the past week. Those protests have since spread to other countries, including Germany and England.
Amid that backdrop, players in the Bundesliga revealed a variety of messages to show their support for the continued fight against racial discrimination.
Jadon Sancho, Achraf Hakimi
Borussia Dortmund's English winger Jadon Sancho, 20, removed his jersey after scoring one of his three goals in Sunday's match, revealing a "Justice for George Floyd" message written on his undershirt.
His teammate, 21-year-old Moroccan international Achraf Hakimi, followed in kind after scoring a goal of his own in Dortmund's 6-1 win over Paderborn.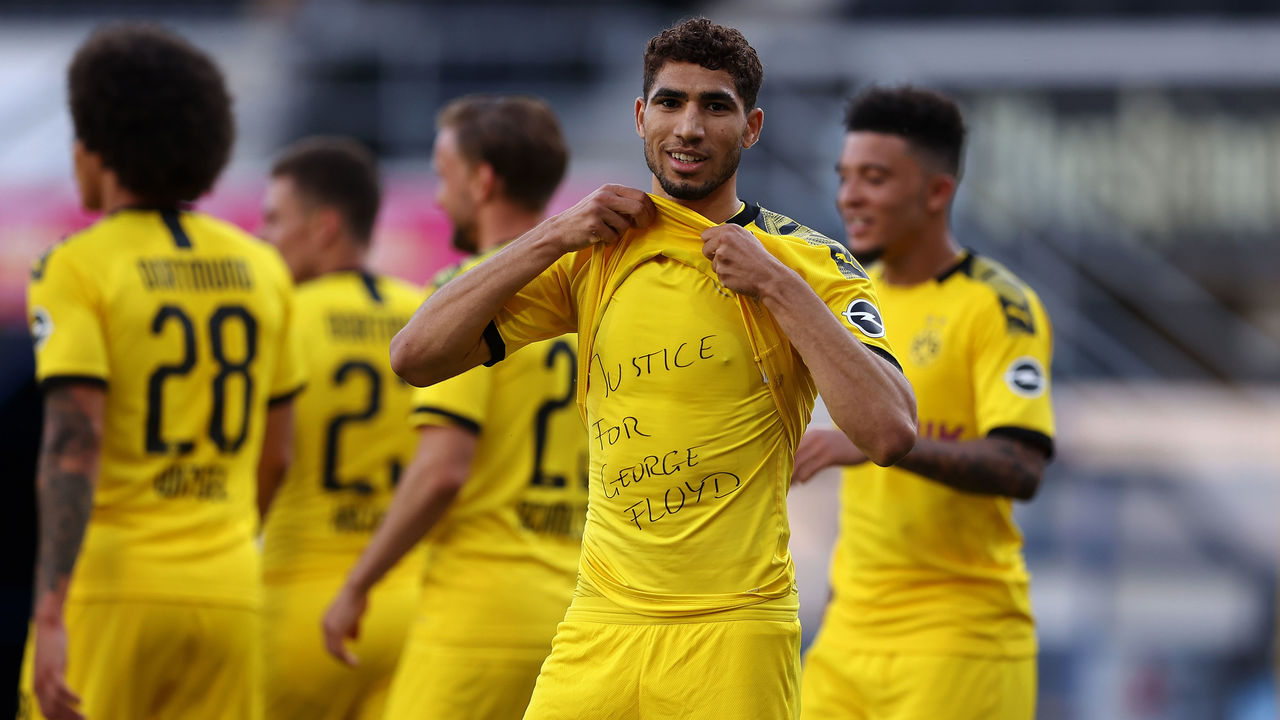 Earlier in May, Sancho retweeted a tweet relating to the death of Ahmaud Arbery, an unarmed black jogger who was shot dead by a white man in Georgia in February.
"A black man who was jogging in his neighborhood got slaughtered and no one's saying or doing anything," the tweet read. "Black people deserve better than what the world gives us. We're treated as less than human."
Marcus Thuram
Hours before Dortmund's match on Sunday, Borussia Monchengladbach forward Marcus Thuram, 22, took a knee on the field after scoring a goal in his team's win over Union Berlin.
"Together is how we move forward. Together is how we make a change," Thuram wrote later on Instagram. His silent gesture was similar to that of former NFL quarterback Colin Kaepernick and other professional athletes in the United States who protested police brutality in recent years.
"He (Thuram) cut to the chase," Monchengladbach manager Marco Rose said of the Frenchman. "He took a stand against racism, one that we wholeheartedly support."
Thuram's father, retired defender Lilian, is an anti-racism activist who has been one of world football's most outspoken voices on the subject.
Weston McKennie
The aforementioned gestures came after 21-year-old American midfielder Weston McKennie wore an armband with the message "Justice for George" written on it during Saturday's game between Schalke and Werder Bremen.
The U.S. international tweeted afterward that "we have to stand up for what we believe in."