Bayern Munich put one hand on the Bundesliga title Tuesday, opening up a seven-point lead over nearest rivals Borussia Dortmund courtesy of a victory in the latest installment of Der Klassiker. Here are the key takeaways from Bayern's 1-0 win at the Westfalenstadion.
Fascinating tactical battle
Tuesday's match, featuring two sides that have experienced few issues shaking off the rust following the Bundesliga's pandemic-induced hiatus, was an intriguing battle of tactical setups and adjustments.
Borussia Dortmund, who needed to push the envelope while looking to pick up three huge points and close the gap on the seven-time reigning champions at the top of the table, got off to the better start and seemed menacing right away. The home team inside a cavernous empty stadium enjoyed 70% possession in the first 10 minutes and prospered down their right wing, where wing-back Achraf Hakimi supported Thorgan Hazard, who was pushing high up the pitch to form a numerical advantage against Alphonso Davies.
The speedy Canadian was getting minimal help from Serge Gnabry defensively, often finding himself two-against-one when Dortmund possessed the ball. The 19-year-old acquitted himself well, though, which is no surprise given his numerous standout performances this season. And while Dortmund found space on Davies' flank, they were never able to take full advantage.
After needing some time to settle in, Bayern eventually wrestled control of the tempo away from the hosts, using their high-pressing system to trap Dortmund inside their own half and exert consistent pressure. That allowed Davies to get forward and pin Hakimi back in the other direction, lightening his own load defensively.
Sometimes the best defense is a great offense.
Once the match eased into that rhythm, a tight battle short on gilt-edged chances but high on intensity ensued.
A draw may have been the fairer result, considering the opportunities both teams created. But Joshua Kimmich's delectable chip minutes before halftime ultimately decided the affair.
Davies' pace bails out Bayern
Davies, a winger turned left-back, is quick. Really quick. That's hardly a spoiler, but his speed is still remarkable to witness.
Romelu Lukaku, among other athletes who were watching the match, certainly agrees.
The fleet-footed teen's ability to track back again proved beneficial when David Alaba's attempted slide tackle on Erling Haaland gifted the Norwegian star heaps of space in a dangerous area in the first half. Alaba can probably afford to take such risks when playing alongside Davies, who's able to recover from seemingly any position on the field.
Davies hit a higher top speed (35.27 km/h) than any other player in the opening half of the contest, according to Squawka. Based on the visual evidence, that checks out.
For good measure, Davies would again get the better of Haaland minutes later, taking a roundabout path to evade the Dortmund striker before using a zig-zag shimmy to sidestep markers on a slaloming run.
Kimmich is still criminally underrated
Let's show some appreciation for the match-winner.
Kimmich, who's only 25 years old (it feels like he's been around forever), continues to prove he's one of the game's best all-around players. The versatile German international, who's equally adept at full-back and in central midfield, has become the indisputable anchor of a team blessed with high-profile superstars at virtually every position.
Others may get more recognition for their exploits, but Kimmich is the central figure for Hansi Flick's squad.
Known more for his defensive attributes – which is natural, considering his positional history – Kimmich showed off his attacking class with a lovely chip on Tuesday that would make the world's most prominent strikers blush.
It's beyond time that he's treated like one of football's greatest stars.
Boateng escapes VAR judgement
For all their quality, it did appear fortune was on Bayern's side.
The league leaders escaped what looked like a stonewall penalty after Jerome Boateng's arm deflected Haaland's effort out of play in the second half. With strangely nary a protest from the home side, Dortmund rushed to take the corner kick before the referee could examine the incident further.
Dortmund shot themselves in the foot. According to the Laws of the Game, VAR can't be checked for a penalty claim once play has restarted, with mistaken identity or a potential sending-off offense relating to violent conduct the only exceptions.
Match official Tobias Sieler wasn't in a giving mood for either side, apparently. The referee waved off Manuel Akanji's late foul on Robert Lewandowski in the penalty area, too.
Home teams continue to struggle
Apparently home cooking isn't quite as good in isolation.
With Tuesday's defeat to Bayern, Dortmund continued a bizarre trend in the Bundesliga since the league restarted earlier this month.
Through 19 post-hiatus matches – not including Tuesday's later kickoffs – the home side has only won three times compared to 11 victories for the visiting team. That amounts to an abysmal winning percentage of 15.7, which follows a 43.3 winning percentage prior to the two-month play suspension.
Is this a brief blip? Or does the absence of home fans truly negate any home-field advantage?
Is the title race over?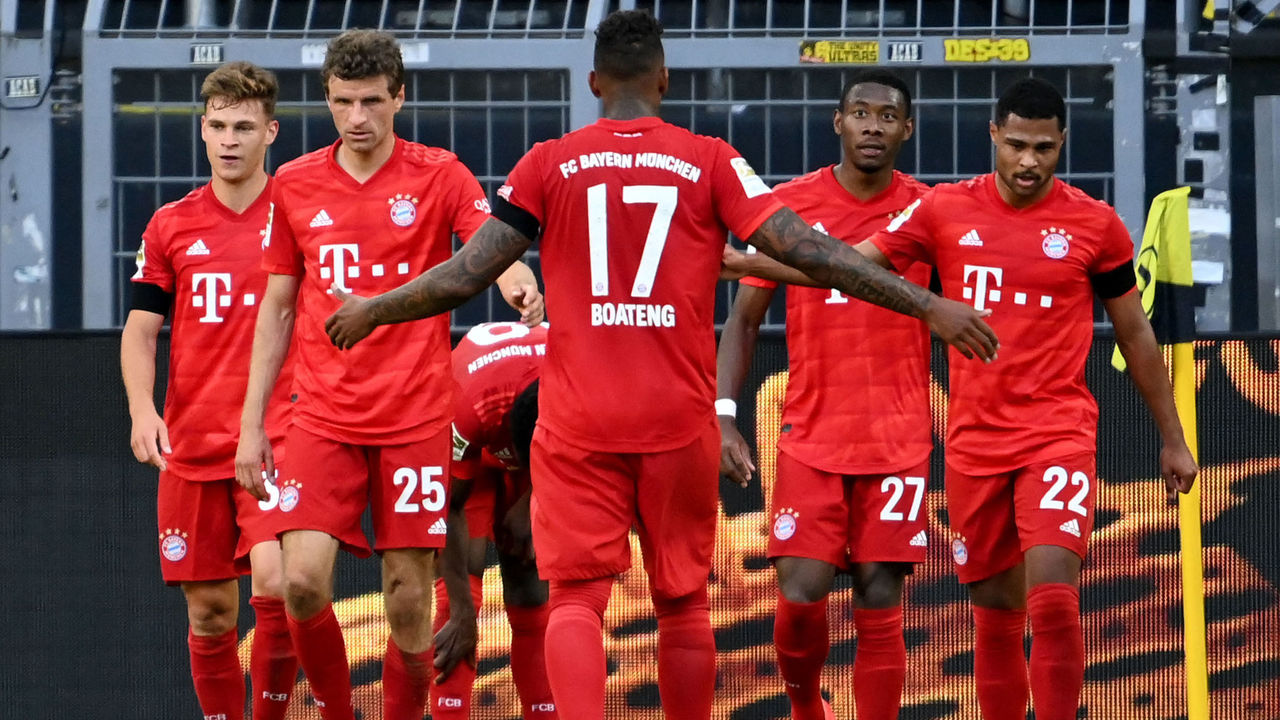 By virtue of their slim win, Bayern Munich are now seven points up on second-place Dortmund with just six matches remaining in the campaign for both clubs.
RB Leipzig could go level with Dortmund on 57 points with a win on Wednesday. But regardless of which team challenges them, it looks like the Bavarians are on course to set a record by capturing their eighth consecutive Bundesliga crown.
They stumbled out of the gate, but did anyone truly believe Bayern wouldn't be the last team standing this season?