Borussia Dortmund were fading before Jurgen Klopp arrived on the scene. With Thomas Doll at the helm and a slow, aging squad on the pitch, Dortmund floundered in 2007-08, stumbling to a 13th-place finish.
A change – in tactics, personnel, and personality – was needed.
"The football was a little bit different, and then Jurgen comes with an absolute philosophy for the club. Thomas also has a philosophy but in this area you also need to be a little bit of an entertainer as a coach," former Dortmund youth coach Peter Hyballa told theScore.
Hyballa was one season into a three-year spell overseeing the Under-19s when Klopp succeeded Doll to become first-team manager in 2008. Hyballa witnessed the raft of on-pitch changes that would eventually return Dortmund to the top of the European game – the gegenpressing, the deep running, the intensity – but the young coach soon figured out the greatest attribute of Liverpool's title-winning boss.
"Jurgen's power is that he can combine tactics with empathy," Hyballa said. "There are some very good tactical coaches but they are not so good people managers. And you get some very good people managers but they are not so good at tactics."
He added: "(Klopp) has a clear philosophy and he's a leader and he trusts young players. I've been a coach for over 25 years and I've worked most of that time with young players and, if you catch young players, they go for you to the fire."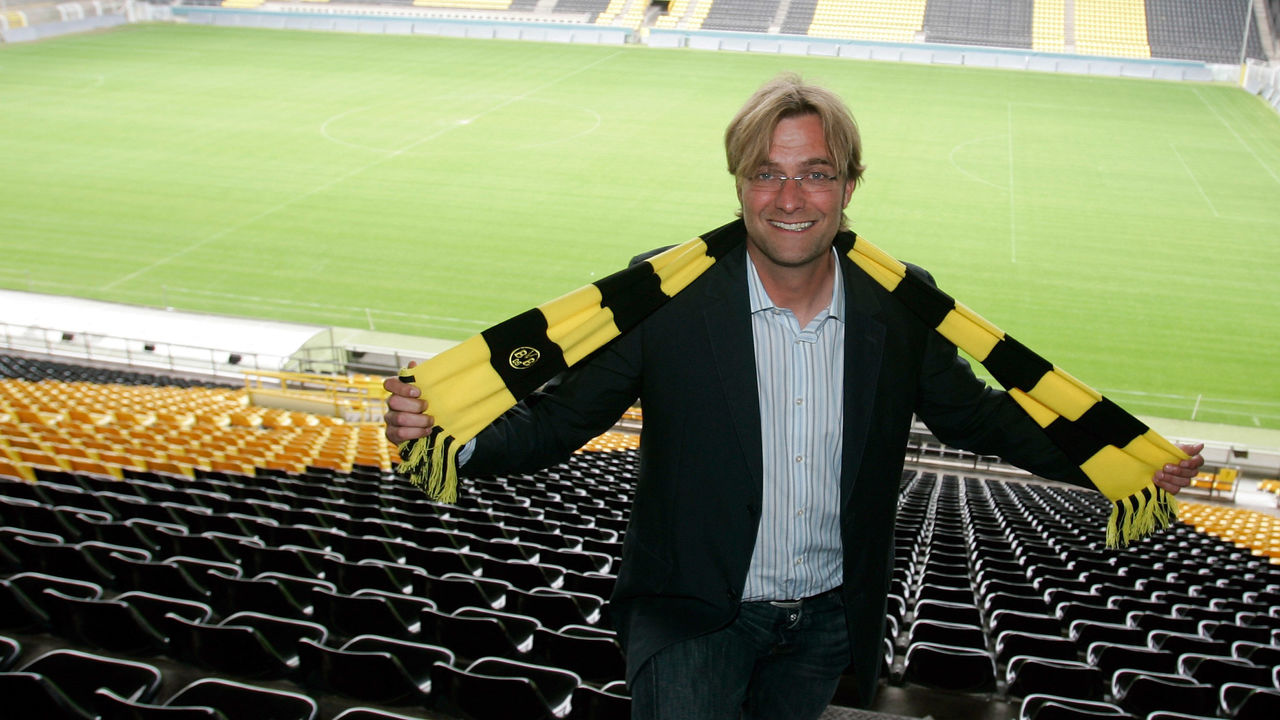 Klopp couldn't rely on the likes of Christian Worns and Robert Kovac, the center-backs who had a combined age of 70, to carry out his game plan at Dortmund. So, he brought teenager Neven Subotic with him from Mainz and installed him in the middle of defense alongside Felipe Santana, a 22-year-old Brazilian who cost around €2 million to sign from Figueirense. Mats Hummels, 19, also started 11 league games during Klopp's first campaign in charge.
A few months into his reign, Klopp and his backroom staff started to explain their philosophy to the other coaches at Dortmund. Klopp took a particularly keen interest in Hyballa's sessions with the Under-19s, borrowing players to make up the numbers in senior training and regularly conversing about the youngsters working their way to first-team contention.
Klopp trusted Hyballa when he said a shy and sensitive 17-year-old was ready to bypass the reserves and join the senior ranks in 2010. "Physically he was not good – he was a bit like a baby, my under-19 players were physically better – but he saw the spaces," Hyballa recalled of his introduction to Mario Gotze in training two years earlier.
Klopp stayed true to his belief in young players and started Gotze 29 times in the 2010-11 Bundesliga season. The attacking midfielder was afforded freedom in his role, and habitually corralled second balls before quickly creating chances through his dribbling and passing ability. Gotze directly contributed to 17 goals as Dortmund ended a nine-year drought by winning the German title.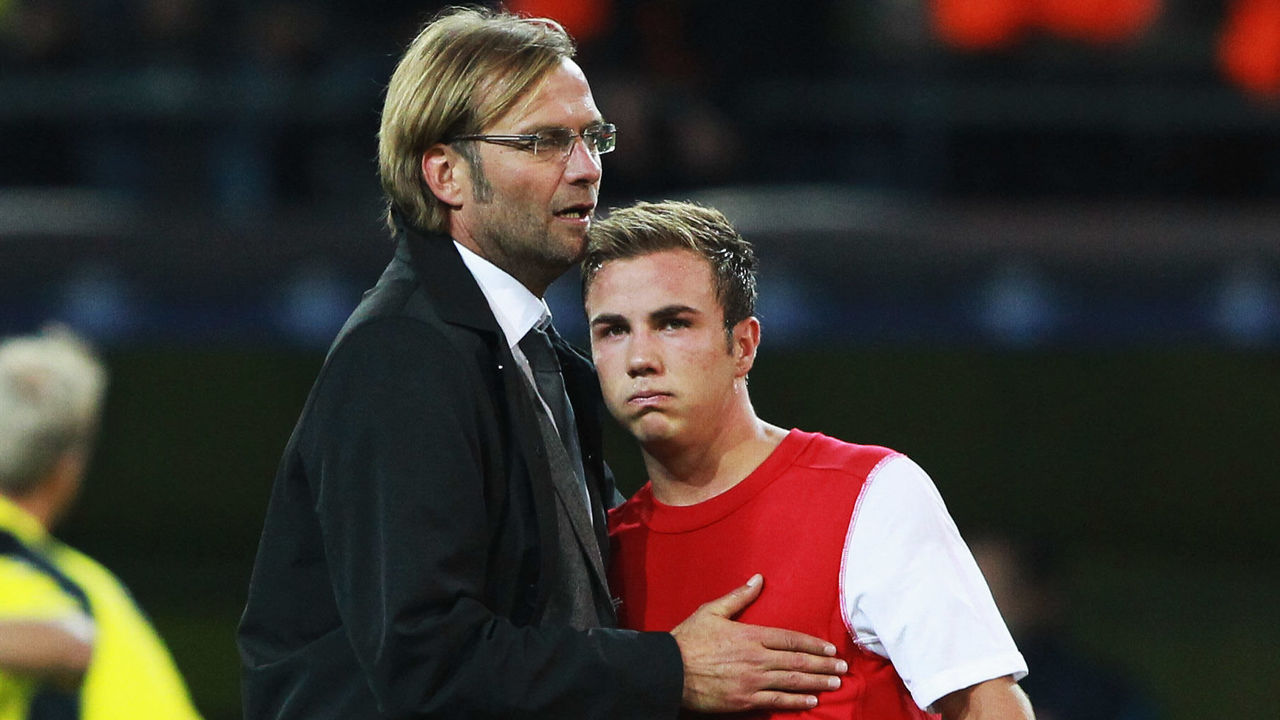 The tactician had already garnered attention for lifting Mainz into the top tier and revitalizing Dortmund, but a Bundesliga title was tangible evidence that Klopp's methods worked at the highest level.
The gegenpressing craze took hold. In Germany, players younger than 10 and aspiring coaches have been educated on Klopp's blueprint for the past decade, and his influence has filtered into football schools in other parts of Europe. Hyballa, who is preparing NAC Breda for a promotion push in the 2020-21 Dutch season, said a gegenpressing workshop was held for 140 coaches in the Netherlands earlier this month.
Hyballa himself is a disciple of Klopp and he still leans on the principles and personality the Liverpool manager brought to Dortmund. He uses the word "Ruhrgebiet" to succinctly define a tendency to be direct and express feelings face-to-face in the Ruhr valley. Klopp may defend his players in front of the media, but he will be cut-throat if someone can't carry out his instructions on the pitch.
"I think he was very clear in his coaching with what he wanted from a player, and if he didn't do this, okay, then on comes a substitution, or he said very honestly, 'Thank you very much, now another player's playing,'" Hyballa explained.
"Only to be angry as a coach is one thing, but to explain why you were angry is the power of a coach."
Klopp's influence has boosted the reputation of his compatriots. Hyballa believes he and other Dortmund coaching alumni, like Paris Saint-Germain's Thomas Tuchel, Schalke's David Wagner, and Norwich City's Daniel Farke, and tacticians elsewhere in Germany have been hired because clubs are seeking "a little bit of a Jurgen Klopp type."
The "Klopp type" is direct in both speech and tactics, and advocates for youth development. But, most of all, it's Klopp's human elements that clubs should be looking for. How he cares for his players and how he always seems to have a smile are the hallmarks of his success.
Klopp possesses an unwavering determination to win, but he still appreciates that football is just a game.
"Be an entertainer," Hyballa explained of Klopp's managerial style. "That means if you work every day with the team you must have fun, laugh about yourself, not always every day totally serious. A little bit of joking, a little bit of freedom; talk about books and intelligent things, not always about football."
That approach has worked like a charm for Liverpool.